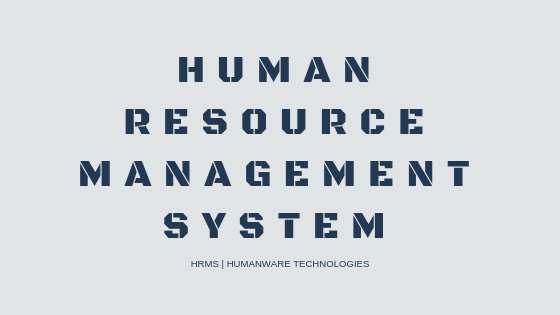 Advantage/Utilization/Benefit Of HRMS Software In Managing Human Resources
What Is HRMS Software?
HRMS refers to the Human Resource Management System, and it is a type of HR software that amalgamates a number of structures and processes to establish the easy management of human resources, processes, and facts. HRMS is an extensive HR Software proficient of providing everything from recruiting and training to salary planning, analytics to performance analysis.
Function and Benefits of HRMS Software
HRMS software is used by every business to incorporate a number of important HR roles, such as streamlining employee data, recruitment, payrolls etc to improve business efficiency. Even small and medium companies are nowadays are incorporating good HR software to leverage their long-term gains. Fundamentally, HR software takes you a step forward in upgrading decision making, as it facilitates data classification by consolidating all necessary HR information into a single database.
HR software consolidates human resources data and, in particular, its basic HR KRAs and processes with the information technology field, although the programming of data organizing systems evolved into normalized routines and packages of ERP software. Each module executes a different function within the HRMS software that helps with information accumulation. HRMS modules can assist with recruitment and onboarding, storing & accessing employee information, attendance records, performance evaluation, analytics & decision making and many more.
Factors To Consider Before You Buy Any HRMS Software/ Finding The Right HRMS Software
While there is a number of HR software programmes are available on the market some of them are quite popular and trusted. So, before considering to buy any HR software settle for nothing more but an organized software that would never cause sincere restriction with your authorities. Another factor to take care of before finalizing any HR software for your organization is their customization and scalability, that represents the flexibility of HR software to craft your own working process. Always make sure your HR software is easy to use, your team won't need any training at all to understand how the system works. Also, make sure to check the reliability and knowledge of the technical support before you buy any respective HRMS software. Inspect the list of integrated software for each system you're considering, and check whether it will be easy to apply the new tool in the same infrastructure. Last but not least, check whether it makes sense to invest in a prime-brand and high market-tier product before you've finalized the HR software.
HRMS Software Security
When it comes to choosing an HR software, security becomes one of a great concern. The data stored in HR software is highly sensitive, including organization data and personal information about employees. It is necessary for firms to select a software that utilizes a method of secure transmission which encrypts the data as it transmits over the internet.
Examples of HRMS Software
There are a lot of various HR software solutions are available in the market, so it's advisable to commence your research with those. Here are some of the leading solutions worth checking out namely,BambooHR, Zoho People, Workday, UltiPro,successfactors and many more