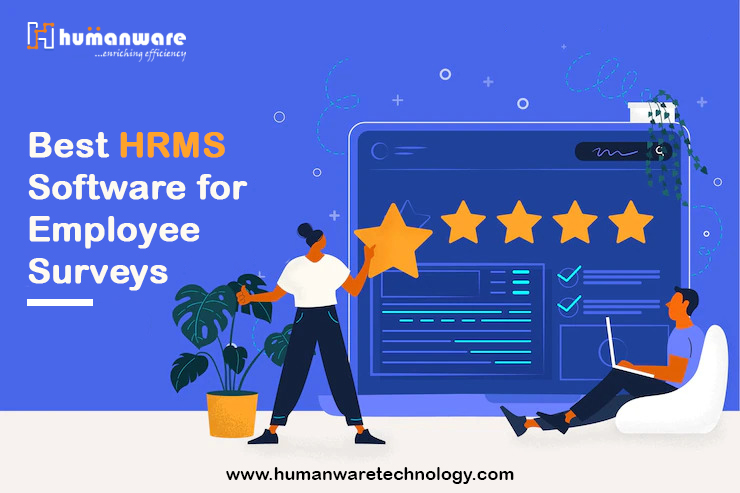 Best HRMS Software for Employee Surveys
When it comes to employment engagement the best practice is to conduct surveys within the organization. The survey helps to get an honest reply from the employees. By which management can plan for future growth of both organizations as well as of employees. surveys can be tricky to work when it comes to conduct on within the organization HR must take many factors into consideration like who are the one participating in the survey, what is the accepted result of survey and many more.
What Are Employee Engagement Surveys?
First, it is crucial to understand the purpose of these surveys. Simply, employee engagement surveys are a market research tool that provides organizations with vital information about their employees. Engagement surveys are one of the most valuable tools, yet they often go underused. Surveys can be conducted using a variety of techniques, from traditional paper-based surveys to online surveys. Even surveys offered by a third-party platform can be useful. Regardless of the methodology used by the organization, it is a step in the right direction when it comes to better understanding the needs of employees.
How to implement Employee surveys?
Just in 8 simple steps HR can develop or create a survey for their organization
Determine The Survey Objective
Select Survey Methodology
Design Questionnaire
Communicate The Importance
Promote The Survey
Communicate The Results
Act-On The Results
Make It Regular
Benefits of Employee Surveys
1. Improved Employee SafetyUncover Individual Employee Weaknesses
Employee engagement surveys allow employers to ensure that they are making an emotional and mental connection with their employees, which can help improve employee safety. Engaged employees are more likely to be connected to the workplace, making them more aware of their surroundings. Research shows that there are 69% fewer security incidents in highly engaged workplaces compared to disengaged ones. A safer workplace often translates to fewer safety and working conditions lawsuits against the organization, which would help reduce legal costs significantly. Additionally, people are attracted to safe workplaces and organizations that report fewer security incidents will attract more talent. This would allow the organization to hire and retain the crème de la crème. Improving employee safety should be a priority for HR managers because employees who feel safe are more likely to be satisfied.
2. Detect Overall Employee Knowledge Gaps
Employee surveys allow companies to detect general gaps in employee knowledge. This gives organizations the power to fill these knowledge gaps. Because knowledge gaps can lead to costly inconvenience, it's extremely important for HR managers to mandate employee participation in engagement surveys. By detecting general gaps in employee knowledge and addressing them through training, there will be no room for inefficiencies related to these gaps. Moreover, the gap between what employees know and what they need to know may be the result of an even bigger and deeper problem within the company. Assessing skills gaps has become the primary area of ​​focus for talent development.
3. Lower Absenteeism
A high absenteeism rate can prevent the organization from reaching its full potential. Employees who are present in their role meet deadlines and complete projects efficiently. Engaged employees tend to be highly engaged in their work. This means they will be more invested in their work and less likely to disappear without first informing staff of their furlough plans. Employee engagement surveys ensure that employees are fully engaged and committed to the organization's mission and vision. They instill a sense of commitment in employees, which encourages them to come to work ready to get the job done. Studies show that highly engaged workplaces have 46% less absenteeism. When employees take occasional days off, it's a sign of commitment. Employees who are secure in their role will plan their vacations accordingly and are less likely to disappear without notice.
4. Increased Employee Loyalty
The concept of employee retention is changing as the younger generation enters the workforce. According to a study, 42% of employees are willing to accept another job offer if an opportunity arises. This means that even if employees are not actively looking for a new job, they can easily change jobs if something better comes along. Engaged employees, however, are more likely to stick around and prove their loyalty towards the organization. Because employees feel like they are working from home, they feel comfortable with the people they work with and are more likely to leave the organization. They contribute more to the organization than any other employee because for them, the success of the organization is their success.
5. Higher Retention
The number one reason employees leave an organization is because they feel like their strengths aren't fully utilized, they don't feel challenged, or they just don't like working in the workplace organization. These are all signs of low commitment. To avoid high turnover, employers should conduct employee engagement surveys to detect if an employee is likely to leave the organization early. The information provided by surveys allows employers to make the right decision to ensure that employees are engaged and not looking elsewhere for work. It is more cost effective to retain employees as high turnover can be costly for organizations. It can be extremely costly for employers to rehire, retrain and restructure employees. Therefore, employers must make efforts to ensure that employees are engaged and less likely to seek work elsewhere.
Humanware Hrms is one of the top human resource management software (hrms) that helps to manage the entire employee life cycle. We not only manage the employee's formal life cycle but also manage all their engagement activities like reward & recognition , socialization, surveys, helpdesk and many more. Take your engagement strategy to the next level with humanware HRMS software.