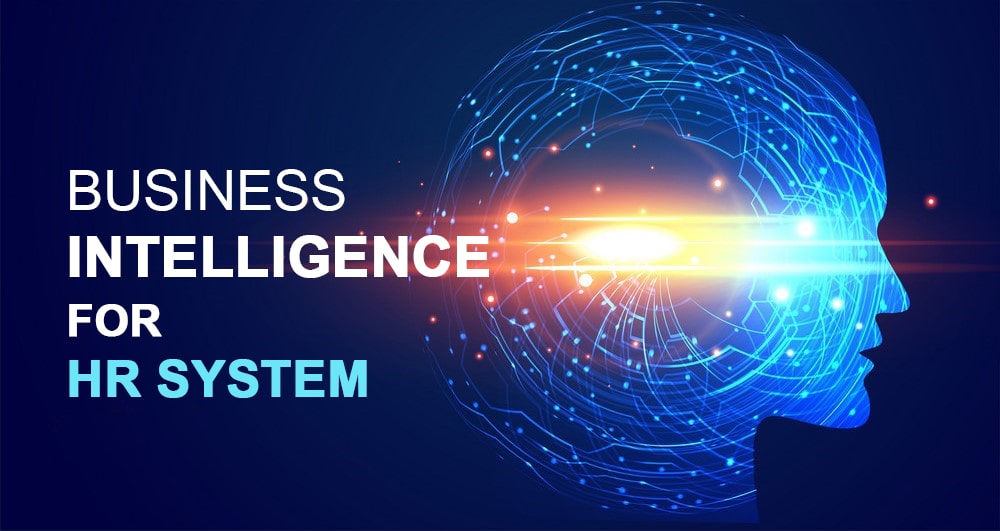 Business Intelligence for HR System
Technology today is evolving at a very rapid rate, allowing for faster change and progress, causing the rate of change to accelerate until it becomes exponential. However, it's not just tech trends and key technologies that are not evolving but also applied in different sectors. HR functions are no exception to this change. technologies like Chatbot, artificial intelligence, machine learning, and business intelligence are exploring the world of HR.
What Is Business Intelligence ?
Call it as people analytics or talent analytics or workforce analytics all referred to HR analytics which The general definition of Business intelligence notes the procedural and technical infrastructure that collects, analyzes, and stores the data produced by the activities of an organization. Business intelligence is a broad term that encompasses data mining, process analysis, performance benchmarking, and descriptive analysis. Business Intelligence analyzes all of the data generated by a business and presents easily digestible reports, performance measures, and trends that inform management decisions.
How does business intelligence work?
Business intelligence is the set of processes used to extract information from raw data in order to facilitate decision-making. Organizations leverage this data to stay ahead of their competition and optimize overall performance. These tools are needed by most business intelligence analysts, but there are also a variety of business intelligence tools available that can help employees in various departments. Some business intelligence software can integrate with tools for specific industries such as travel, retail, and media services. Business intelligence with the help of reports and analytics users to find solutions to inform their daily activities using dashboards, complex analytical processing, and powerful visualizations. Business Intelligence tools can deliver fast and accurate information to make decisions using a variety of data sources without the help of the IT department to run complex reports. These data sources can come from marketing or sales analysis, operations performance, and customer relationship management. HR software with business intelligence can bring all of these sources together to provide historical, current, and predictive information to aid in business planning.
What are the benefits of Business Intelligence
1. Quick and accurate reporting
HR and employees can use templates or customized reports to monitor the KPIs by using a variety of data sources, including financial, operations, and sales data. These reports are generated in real-time and use the most relevant data so businesses can act fast and make quick decisions. Most reports include graphs, tables, and charts that are easy to read and visualize. Some HRMS software reports are interactive so that users can use different variables or access information even fast.
2. Business insights
Businesses can measure revenue, and overall employee productivity, as well as department-specific success. This can reveal the strengths and weaknesses of individuals or the team, as HR tools help organizations understand what works and what doesn't. Setting up notifications is simple and can help track these metrics and help busy executives stay up to date on the KPIs that matter most to their business.
3. Competitive analysis
The ability to manage a large amount of data is a competitive edge in itself. Additionally, budgeting, planning, and forecasting is an incredibly powerful way to stay ahead of the competition, it goes beyond standard analysis and is easy to do with HRMS software as well. Businesses can also track the sales and marketing performance of their competitors and learn how to differentiate products and services they are performing.
4. Better data quality
The HR software which has integrated business intelligence provides better data quality by comparing and analyzing previous data. Companies that take it upon themselves to collect, update, and create quality data tend to be more successful. With HR software, businesses can aggregate different data sources for a more complete view of what's going on in their organization.
5. Improves performance
Business Intelligence unifies multiple data sources, which contributes to the overall organization of a business so that managers and employees spend less time tracking information and can focus on producing accurate and timely reports. With accurate and up-to-date information employees can focus on their goals and analyze the impact of their work.
Conclusion
In today's data-driven world, businesses face information overload and those who want to work smarter are investing in ways to control and understand that information. The era of big data is coming. In fact, we produce so much data that 90% of the data has been collected in the last few years. While adopting new technology and tools can seem questionable, the HRMS software with business intelligence often pays off, even if the benefits are not immediately visible. It benefits long-term goals.