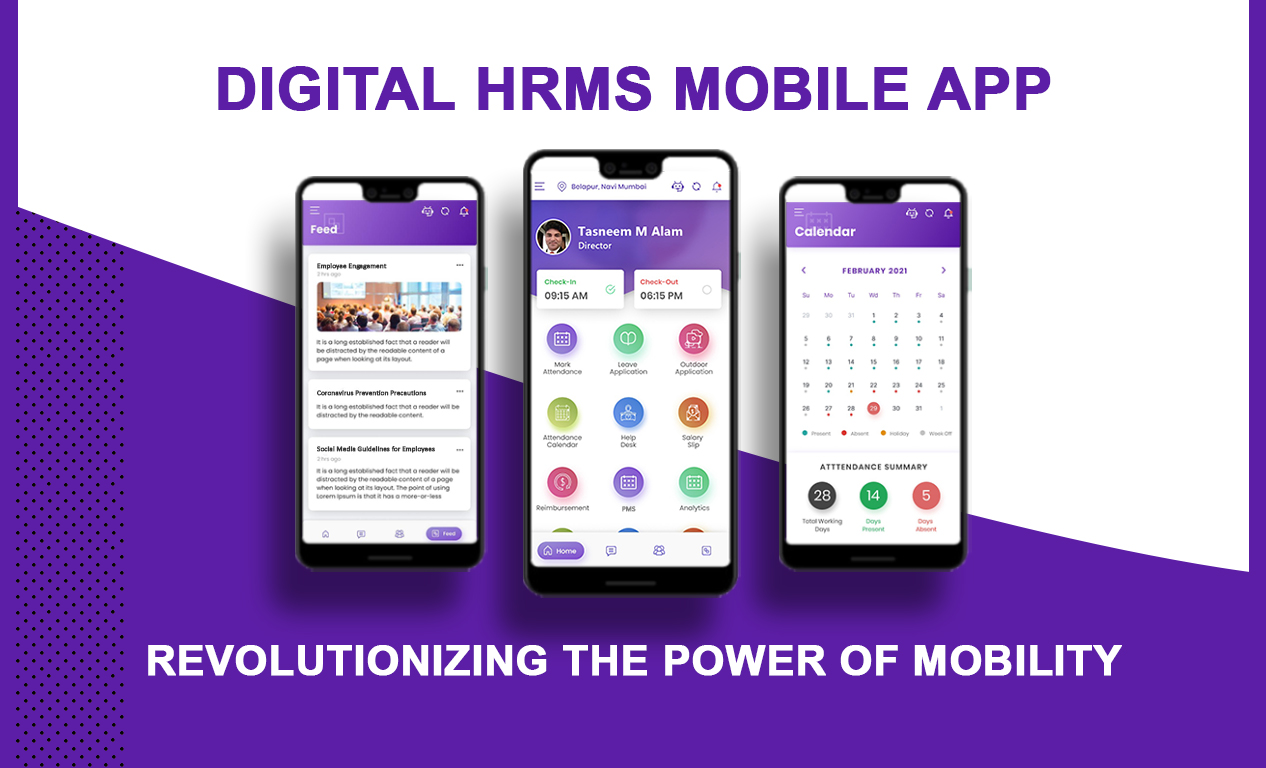 Digital HRMS Mobile App | Revolutionizing the Power of Mobility
The complete, powerful, and agile mobile solution from humanware is built to empower businesses and drive user adoption to new heights. Employees may now stay connected to the company wherever and at any time, thanks to increased speed, efficiency, and convenience. And, with courses that cover every strategic and functional element of HR management, the game for your HR Tech may alter completely. Access all of the features of our online application on your mobile device to see how you can save time, boost productivity, and find time for amazing things.
The following are some of the advantages of using the Humanwaew Best HRMS Mobile App:
Improves the efficiency of the leave management process.
Employees benefit from flexibility and convenience.
Employee communication is improved.
Employee satisfaction has improved.
Maps are used to automate the management of employee travel allowances.
Humanware HRMS app helps the management in:
1. Managing Payroll
The HRMS mobile app allows employers to pay employees. As computations become more automated, human mistakes become less of a factor. Employees may use the HRMS mobile app to see pay stubs, verify Provident Fund information, and more. Paying employees on time improves their morale, which has a favourable impact on their productivity. Salaries that are paid on time help to recruit and retain top talent.
2. Referral
You can now find current openings in your organisation on your smartphone and send the referral link via any social media platform as a message or email to a specific individual or group. You may also check the status of your referrals on your mobile device.
Performance Management
You may now establish your objectives and benefit from the power of continuous and real-time feedback. Extensive performance management is available without any difficulties with the performance diary on mobile! Feedback from a job interview or a project meeting is as useful as it is rapid. With mobile, you can now exchange feedback in real time and foster an accountability culture at work.
Chatbot
It reduces time to action, provides insight, and improves process adherence, as well as assisting your workers in becoming more engaged and empowered. Now your employees may benefit from the power of AI and machine learning.
Time and Attendance
With our new mobile solution, keeping track of time and attendance is now easy. You may now keep track of the upcoming vacations as well as the current leave balances. We've got your back, whether it's for vacations or attendance adjustments. With the daily clock-in and leave application on your phone, you can put your anxieties to rest.
Training Management / LMS
The Training module of Digital HRMS is power-packed with cutting-edge capabilities to assist the company in planning and implementing training sessions for each employee's skill development. The following are the main characteristics of the module:
In the Trainings area of the Digital HRMS app, users can see their annual training objectives as well as the status of their training goals.
The software displays the training objectives in a graphical style for simple recognition.
In addition, the Digital HRMS app has the ability to examine allocated training for certain quarters.
Expense and Reimbursement
Employees may track the progress of their expense requests using the Expense & Reimbursements Module of the Digital HRMS mobile app.
Employees can monitor the status of their expenditure requests that have been submitted.
Managers have the option of cancelling or approving expenditure requests.
Use the search box to look for and find interesting requests.
All requests can be seen by the administrator.