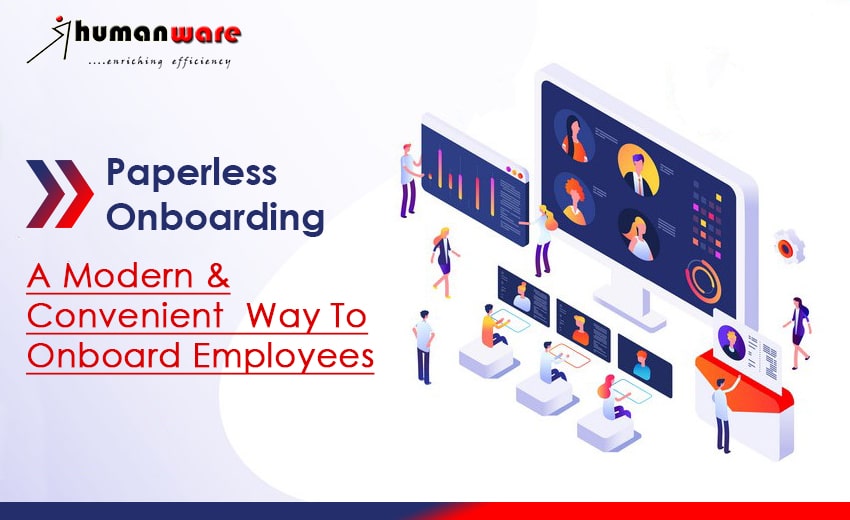 Paperless Onboarding - A Modern & Convenient Way To Onboard Employees
The first day of a new hire on the job is rarely filled with work. Legal documents and company onboarding are a priority for everyday tasks. A new hire requires quality employee onboarding to be successful, so it is wrong for part of the company to underestimate this process. As 64% of companies plan to expand their recruitment efforts over the next 12 months, companies should be prepared to process paperwork mounds or implement a paperless onboarding approach to compensate for the flood of new talent.
Most of the application process in the professional world is already online, so why not make the onboarding process paperless?
In short, onboarding is not only easier for the HR department to process, it's much easier and less of a bore for new hires to complete.
How to turn paperless onboarding into reality ?
Implementing an effective paperless onboarding approach in the paper-heavy world of HR is a real challenge. However, if you plan properly, you can make your onboarding process paperless in less time. Since most onboarding tasks are slightly repetitive, affiliate workflows lend themselves into automated processes. With advanced onboarding software , digital onboarding forms, dynamic HR workflows and the onboarding process can be processed without any paperwork.
Benefits of a paperless onboarding process
Modern technology is rapidly changing employee expectations and businesses need to keep up with those demands and reduce turnover. Paperless onboarding can help businesses meet those expectations
Here are some other benefits of implementing paperless employee onboarding software :
1. Digitize onboarding process :
With digital employee onboarding forms, HR professionals can create and manage onboard documents, eliminating the need to print, scan and manually key in confidential employee information. In addition, online onboard forms increase accuracy and ensure stability in the onboarding process. Using the All-in-One HR Suite, companies can customize the on-board form to suit their specific business needs.
2. Access everything through a single onboarding platform :
One of the best things about paperless onboarding is the visibility process it provides. The dashboard in HR tools allows process administrators, such as HR leaders, to view processes in real time, reassign tasks, measure processing speed, identify pain points, and more. They can also get a clear picture of where a process has stalled and who is responsible for it. This ensures transparency and promotes accountability within the team. Such powerful features can help your HR department transition from an overworked team to an innovative workspace.
3. Intuitive user experience :
If you go paperless for on-boarding it does not mean not talking about customer experience, you can bring life to the whole onboarding process by giving employees accurate user experience. A good UI does half the work or makes the experience easier on the eyes and makes the UX overall experience smoother.
4. Safe & secure :
With hard copies and paperwork, the most important thing that comes into the picture is how and where to store it. Papers are very easily lost and misplaced. All of these factors can be well taken care of when things go online and relax. Humanware onboarding is secure and manages all employee documents in one place so it can be easily retrieved.
If you are looking to streamline your organization's HR process with all of the above, click here to learn more about humanware technology.