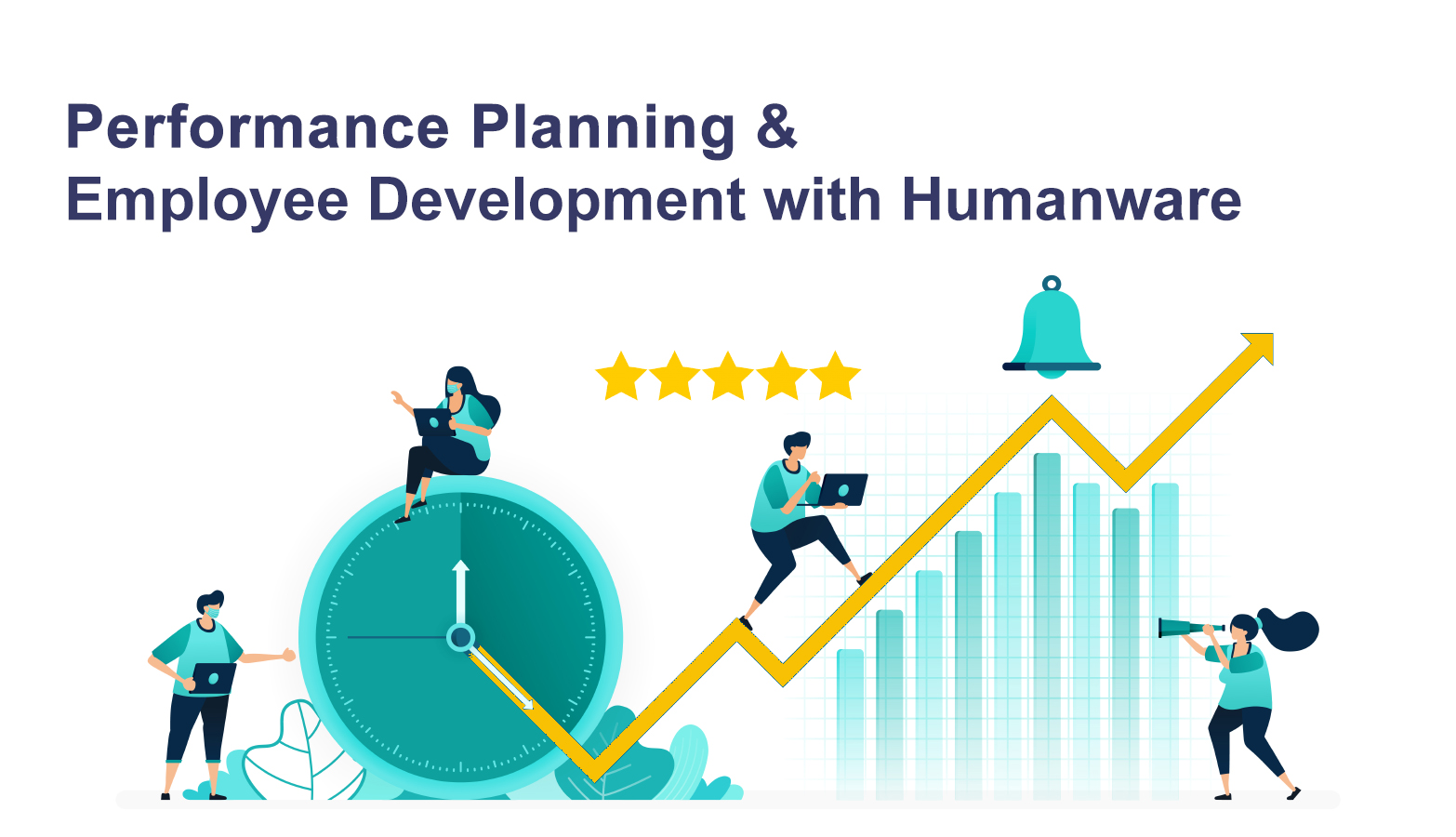 Performance Planning and Employee Development with Humanware
In an age of globalization and ruthless competition, organizations have recognized the importance of strategic HR practices in gaining a competitive advantage over their competitors. A well-designed performance management system can play a crucial role in streamlining the activities of an organization's employees to achieve the ultimate business mission and vision. Performance management is a useful tool for aligning all major organizational functions and sub functions so that the focus is on achieving the organizational goal. Performance management is a much larger system as it relates to the planning, implementation, review and evaluation of processes to increase the growth and productivity of the individual and the organization.
The main goal of performance management is to reflect individual performance and get formal feedback from peers and managers and confirm that its employees work in an integrated way to achieve the ideal result.
Performance management systems enable the employees towards achievement of superior standards of job performance.
Performance management systems benefit the individual in identifying the knowledge and skills required for performing the assigned task efficiently as this would drive their focus towards performing the task in the right way with ease.
Performance management system creating a basis for several administrative decisions strategic planning, succession planning, promotions and performance based payment.
Performance management system assists in identifying the barriers to effective performance and resolving those barriers through constant monitoring, coaching and development interventions.
Today, the possibilities in technology of performance management have broadened and all of its initiatives are aimed at achieving the ultimate goals of the business. Performance development and planning is a fundamental step in performance management and enables the establishment of a performance agreement which, in turn, provides a framework for performance management throughout. year round and emphasizes continuous improvement and individual development. Performance and development planning is done mutually by managers and employees and, during the time spent in conversation, both come to performance agreements and set performance expectations.
Performance and individual development plans factors:
Profile Role :
A profile role can be defined as behavioral and technical or job related competencies for an individual within the organization. The key areas of a job role are jointly developed by managers and team leaders or by individuals themselves and are updated after a formal performance agreement is established based upon the KRA of the employees.
Performance planning :
Performance planning basically characterizes a company's formal process of identifying and planning either an employee's or organization's goals and the best way to reach them. The main goal of performance planning is to identify the competencies required for doing the job and create an appropriate performance and career development plan. Performance planning can also be regarded as work plans set for achieving targets and meeting the project deadlines.
Development planning :
The Action Plan which is formulated with the support of the manager and team leaders in the organization which may include formal training, coaching, mentoring, project work and job enlargement is a personal development plan. The development plan target's at fulfilling the requirements of the policy of continuous development and developing the potential of individuals for higher positions in the organization.
Performance assessment :
The performance assessment deals with the contributions of an employee over the entire period of assessment. This assessment measures how well employees apply their knowledge, skills, and abilities to authentic problems. The key feature is that it requires the employees to produce something, such as a report, experiment, or performance, which is scored against specific criteria. The first goal of a performance assessment is to recognize the degree to which an employee successfully delivered his performance and the extent to which the standards and objectives were achieved.
Performance agreement :
Performance agreements determine executive accountability for specific organizational goals to aid HR executives align daily operations, and clarify how work unit activities contribute to the organization's goals and objectives. Performance agreements deals the corporate core values of an individual, employee objectives, role requirement, abilities and skills for the job.
Humanware HRMS for Performance management
Humanware HRMS Software is a one stop HR Solution for all HR activities. When it comes to a performance management system that best meets your business needs Humanware HRMS is what you are looking for to optimize your organization goals. With our PMS module HR benefits with 360 degree review, 9 box grid for succession planning , Normalization and bell curve, distribution analysis and skill matrix, side-by-side trends. With employee centered performance platforms for growth-oriented organizations. Our performance management is designed to help employees to grow and build a performance culture for organizational growth.