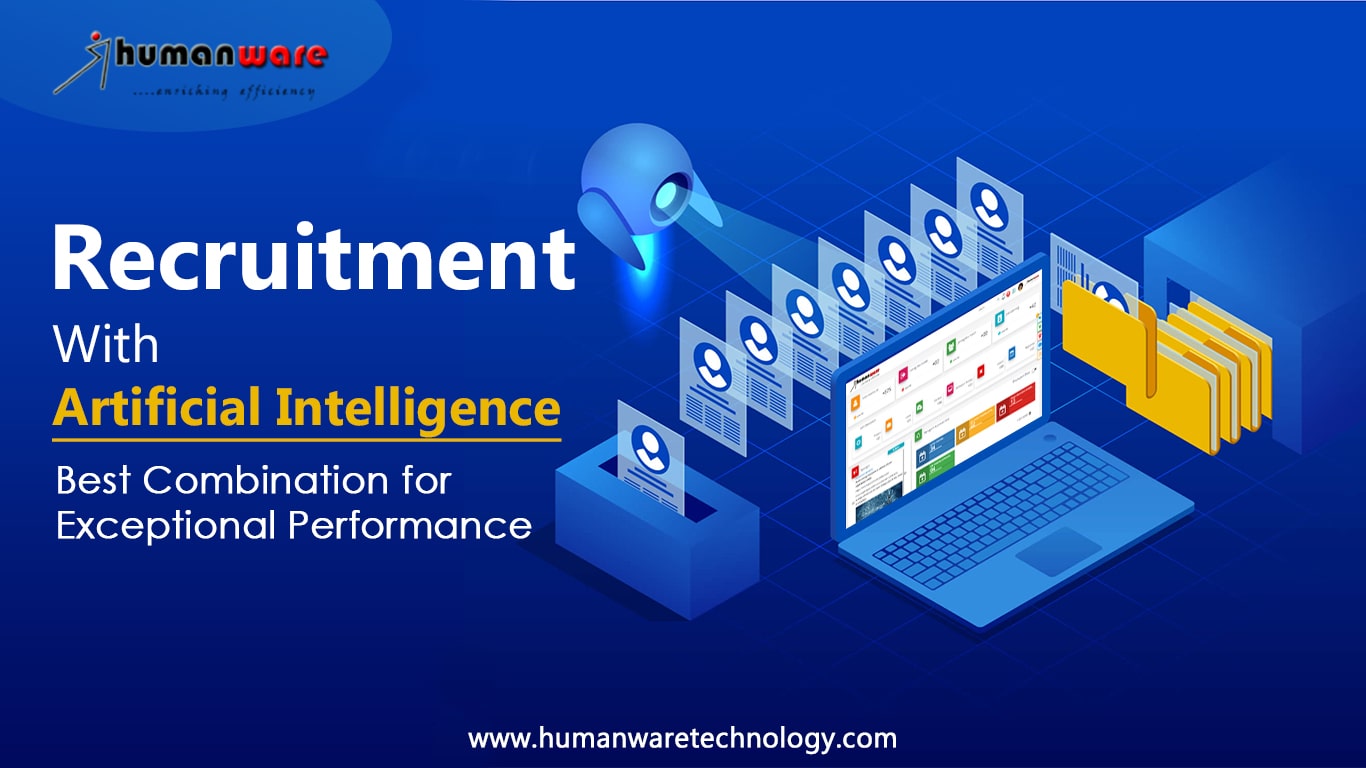 Recruitment With Artificial Intelligence - Best Combination for Exceptional Performance
AI for recruiting is the application of artificial intelligence with predictive analytics that helps recruiters modify recruiting. From identifying talent to mapping candidate behavioral assessments, Humanware Recruitment Management System can help you choose the people who best suit your business. Our powerful AI recruiting software permits recruiters to focus on the candidate's experience and improve the standard of their employment.
In the next few years, the search for top talent will depend on the ability of recruiters to automate the workflow.
Benefits of using AI for recruiters
Saving recruiter's time by automating high volume tasks :
Manually screening resumes is still the most time-consuming part of recruiting, especially when 75% to 88% of CVs received for a position are not qualified. It is estimated that a CV review and shortlist of candidates for an interview takes 23 hours of recruiting time per employee.AI for recruiting is a boon for recruiters; it can successfully automate time-consuming, repetitive tasks such as reviewing resumes or scheduling interviews with applicants. The analysis of a significant amount of data with the software takes only a few seconds, which ensures an acceptable result.
Improve the quality of hire :
As HR data has become easier to collect, access, and analyze over the years, the quality of hiring has become the top KPI for hiring. The promise of AI to improve the quality of hiring lies in its ability to use data to standardize the correspondence between candidates' experience, knowledge and skills and job requirements.
Now, recruiters can collect data from each candidate and evaluate the candidate more effectively. Selecting the right candidate from the talent pool is one of the essential steps.
Provide cost-effective hiring :
Every time you hire any candidate, you want to be sure that you are hiring the right candidate or the right one for the position. It will reduce turnover by hiring the right candidate and save investment in training, bonuses and other expenses of the new member.
How AI will change the recruiter role
Artificial intelligence is the belief that human ability cannot be fully replaced by technology. Instead, artificial intelligence suggests that we should strive to create technology that increases human capacity and performance.
The ability to use artificial intelligence to automate repetitive administrative tasks will be extremely valuable. There are 3 main ways this technology will transform the recruiter's role :
Recruiters will be able to conduct active strategic recruitment without having to spend most of their time doing passive backfilling.
Recruiters will have more time to interview candidates to build relationships and help determine cultural fit.
Recruiters will be able to close the loop with hiring managers, as AI enables them to use data to display hiring KPIs, including hiring quality.
Conclusion
AI plays a key role in streamlining the recruiting process
Don't you think that each company has one common goal, i.e. to hire the best talent on the market? We wonder if recruitment with AI will gain new space in the coming years. However, Artificial Intelligence plays a key role in streamlining the recruiting process and will be constantly updated using a variety of tools. With the many benefits available in the context of a variety of recruiting assignments, recruiters are now ready to nurture a positive and advanced candidate experience.