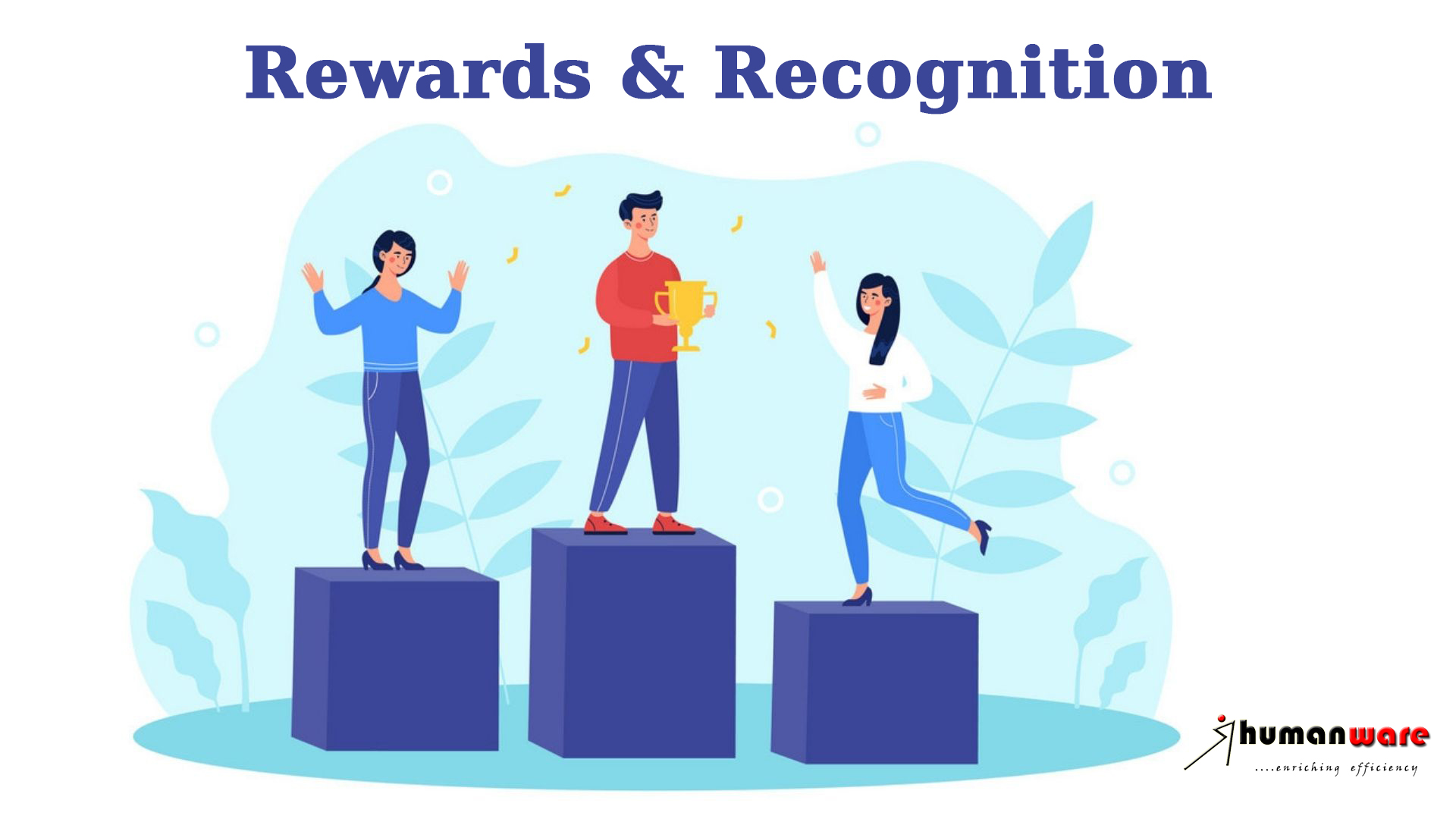 As an HR we all know that employee motivation is key to an organization's success. Without employees, the organization experiences reduced productivity, lower levels of output and it's likely that the company will fall short of reaching goals, thus employee's motivation is important. Rewarding employees for their additional performance or recognition of their efforts make them feel valued with the organization. reward and recognition helps HR to keep employees motivated and boost their performance. Employees who feel values are more likely to stay for a long period of time and invest positively for company welfare.
Rewards and recognition have evolved in a couple of years, not necessary that all rewards need to be expensive. A simple paper or digital certificate can also create a great difference in an employee's attitude towards his work and organization reputation. Studies also show that around 58% of employees are feeling themselves as unrecognized and this directly affects their performance and organization growth. HR leaders and managers who know their employees' importance are always trying to motivate their employees and develop their skills. They often take the help of tools like Performance Management with rewards and recognition to bring the best of their people.
Often people think that reward and recognition both are the same but that's not true. generally reward is a tangible gift given to an employee for their accomplishment within the context. And Recognition can be done frequently and in the moment, which means employees don't have to wait for praise for their job well done. Rewards can be a great way to encourage employees to donate to your organization and can inspire people to want to work for your company. However, you must be careful not to create a culture in your company where employees feel entitled to receive rewards, it should be reserved for outstanding work and achievement only.
There are many differences between reward and recognition. Recognition can be given frequently and in the moment, which means people don't have to expect praise for a job well done. In addition, recognition does not cost much. Managers don't need to ask the leadership team for a quote to write an email celebrating an employee's great work. And because recognition doesn't cost a lot, it can be an employee-led initiative. It can be difficult for companies to reward employees all the time, especially as a small or medium-sized business where budgets can be tight. But it's really the recognition and not the rewards that so many employees seek. The survey found that 75% of employees who left their jobs say lack of recognition was a top reason for leaving, and 85% say they weren't recognized once in the course of their job for the past year. Recognition can be a great way to retain your company's employees.
Each and every organization is different in size as well as culture thus implementing reward and recognition can be an easy task for some while challenging for others depending on a number of factors like company headcount, branches, department and others. Following are some of the steps which can help to implement reward and recognition in the organization.
1. Identify What to be Rewarded
As an HR first and foremost make sure everyone gets equal opportunity to be recognized. Outline the behaviors and actions that employees need to perform their task. Consider factors such as time taken by an individual with a group, their contribution toward goal achievement and feedback from the team.
2. Make It Timely
Give recognition right when you notice a positive behavior. To get the most out of an individual's efforts, act immediately even on their shortest achievement.
3. Do It Often
Like we've said before, people crave recognition. It's important that as a HR or manager you must keep the track of an individual record, which helps in recognizing individual do's and don'ts. Manage or must find smart and unique ways to recognize employees regularly.
4. Make It Genuine
An automated email won't work when it comes to employee reward and recognition, but a sincere having a personal touch makes a powerful impression on the individual who has received the recognition.
5. Personalize Reward
If an employee is on the path to be recognized, praise an employee in a way that makes them feel comfortable. Sometimes employees may feel embarrassed to be yelled at a large corporate meeting. And if you're offering a reward, try to pick something that really adds value to that employee.
6. Make It Collaborative
Allow everyone to be part of your rewards and recognition program. Employees feel good about being recognized, but they also recognize the work of their peers. Encourage employees to congratulate each other often and consider creating a program that allows people to nominate their colleagues for rewards.
7. Make It a Habit
Setting a standard for recognition on a regular basis can help in developing company culture and make the organization stand out for other organizations. This attracts talent and develops business branding.
8. Be Transparent
Recognition and rewards show everyone the kind of behavior you want other employees to exhibit. Also, if you feel the need to keep a bounty a secret, maybe you should reconsider how fair it is in the first place.
9. Don't Forget Remote Workers
It is easy to remember people within the workplace and forget about peers working in a remote location. This often makes them feel disconnected from the organization so recognition from colleagues and management can help them stay engaged with the team and make them feel connected to the organization.
10. Creative Reward
Play around with your reward and recognition ideas. Find ways to recognize and reward different groups, departments, and individuals in unique ways based on their accomplishments, needs, and wants.