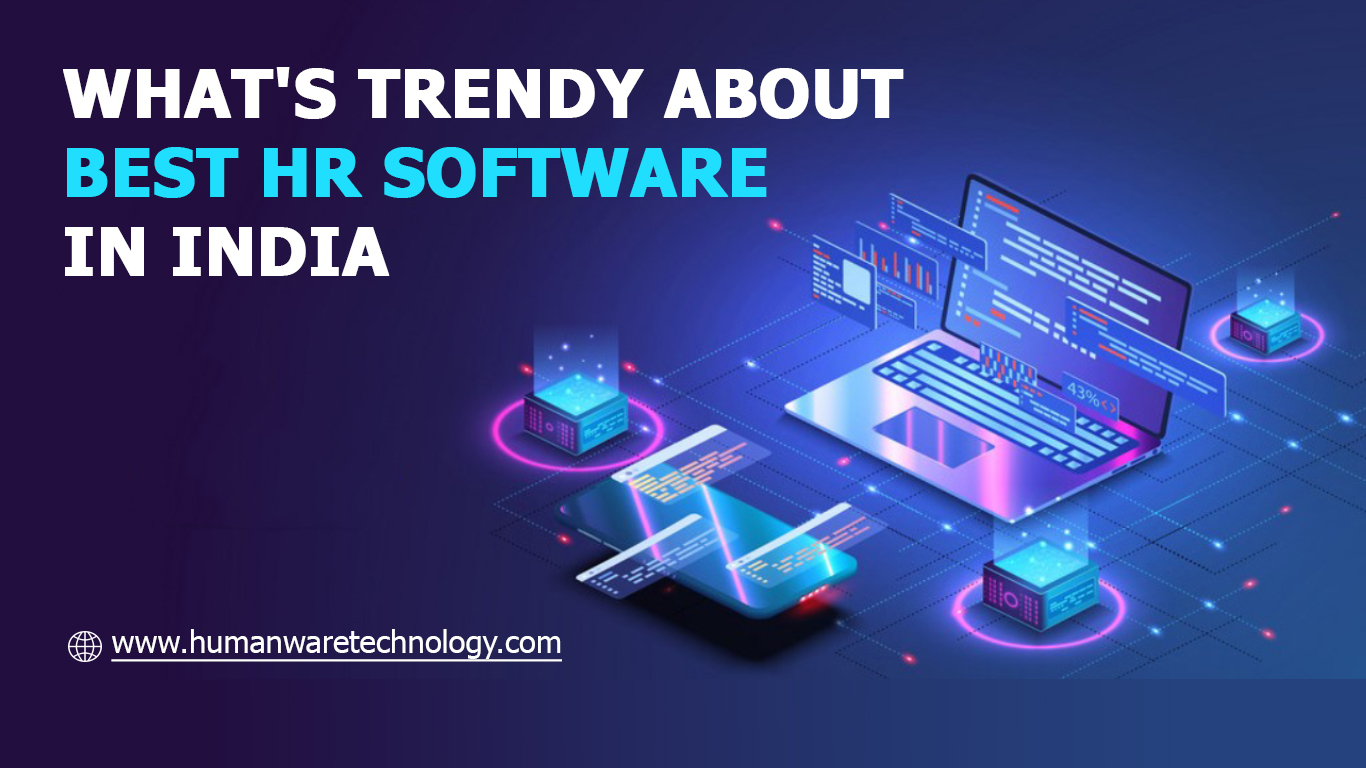 Whats Trendy About Best HR Software In India
Thanks to the Internet and modern technology, HR is no longer limited to piles after piles of paperwork. With HR professionals now having the tools to reduce and simplify administrative tasks like managing time and attendances , conduct onboarding and offboarding activities, payroll, employee performance and record keeping of all activities, HR has completely transformed some of the technologies mentioned below.
What is HR analytics ?
Call it as people analytics or talent analytics or workforce analytics all referred to HR analytics which involves collecting, analyzing, and reporting HR data like Employee surveys, Attendance record, reviews, career history, Demographic and Personality data, and much more. This data helps to measure overall business performance and make decisions based on data for organization growth. Since that day Human Resource Management has changed dramatically with technological transformation. The HRMS has shifted from an operational discipline towards a more strategic approach, The popularity of the term Strategic Human Resource Management (SHRM) demonstrates this. The data-driven approach that characterizes HR analytics is in line with this development, by using analytics HR doesn't have to rely on gut feeling anymore. Furthermore, HR analytics helps to test the effectiveness of HR policies and different interventions within the organization. In this age of disruption and uncertainty, it is vital to make the best decisions in order to navigate our new realities.
1. Business Intelligence
Business Intelligence (BI) is a process of analyzing data and presenting usable information for managers to make a decision. It combines a variety of tools, technologies, and methods with the aim of generating positive change and improving business performance. Business Intelligence encompasses a variety of analytics processes, including data mining, predictive analysis, text mining, statistical analysis, and big data analytics, as well as reporting processes and tools like data key performance indicators, visualization software, and performance benchmarking.
2. Mobile Apps
The audience for the mobile user is larger and steadily growing, with the use of devices such as smartphones, smart watches and tablets for shopping or entertainment. Unfortunately, business technology hasn't changed enough to match the need and make better user experiences. Top hr software company provides mobile applications. The humanware mobile application designed for user-friendly, attractive and intuitive mobile use allows users to do their work anywhere. The Humanware mobile app is a responsive and powerful mobile app designed to empower businesses. With greater efficiency and convenience, employees can now stay connected to the organization anytime, anywhere. With the best hrms solution now on mobile empowers employees with Chatbot, Employee Centric, Essay Entrigation and 24/7 connectivity.
3. Chatbot
A chatbot is a program which simulates and processes human conversation. Basically, a chatbot allows interaction between a human and a machine. Interaction takes place through written or voice messages. The chatbot is programmed to operate independently of a human operator. He can answer questions in the natural language just like a real person would. A chatbot presents its responses through a combination of predefined scripts and machine learning. When a question is asked, the chatbot will respond based on what it knows at that time. If the conversation takes him to a place where he doesn't know what to do, the chatbot will deflect the conversation or potentially pass it on to a human operator. In either case, he will also try to learn from this interaction. Over time and multiple interactions, the chatbot will gradually gain in scale and relevance. If the chatbot is not connected to the relevant data, you will quickly find that this is not very useful. Best hr software have chatbot integrated with their mobile application. The Humanware chatbot is designed to behave like a virtual HR. who is available for the employees to solve their queries.
4. Rewards & Recognition
The HR job is not only to manage the employee but to keep the workforce motivated. As an HR you need to manage the employees growth, it's time to put in place powerful rewards and recognition programs. Combined with the industry trend to rely on HRMS packages like Humanware HRMS, implementing a good Reward & Recognition program will do wonders for your business. It will keep the workforce motivated with Reward & Recognition. Organizations are spending more time enhancing their skill set for various competitive work. Providing learning opportunities shows employees you want to train for and develop their skills. Quick Digital rewards are the best way to motivate your employees and encourage them.
5. Robotic process automation (RPA)
RPA stands for robotic process automation and is applicable for different business functions across the organization to automate repetitive tasks and improve productivity. RPA is a software to build bots that run 24/7 acting like your virtual colleague. The bots can take over tedious tasks and data-intensive processes so that you can devote more time to focus on higher-value work. RPA helps organizations unlock business values like a faster ROI within months, enhancing the efficiency which is five times more productive than humans, increase overall revenue by more than 30 percent reducing costs by 50 to 80 percent, provide analytics and insights, and increase scalability. Best HRMS software companies are implementing RPA based payroll in their HRMS software, to automate the payroll process and reduce human errors.
Conclusion
Humanware technology is one of the Top hr software company in India. One of the lesser-known facts about Best HR software in India is that organizations are implementing a one stop solution to manage their workforce with new and better technology Robotic process automation (RPA),Business Intelligence, Artificial intelligence and machine learning, Digital rewards are bringing the best out of your workforce.