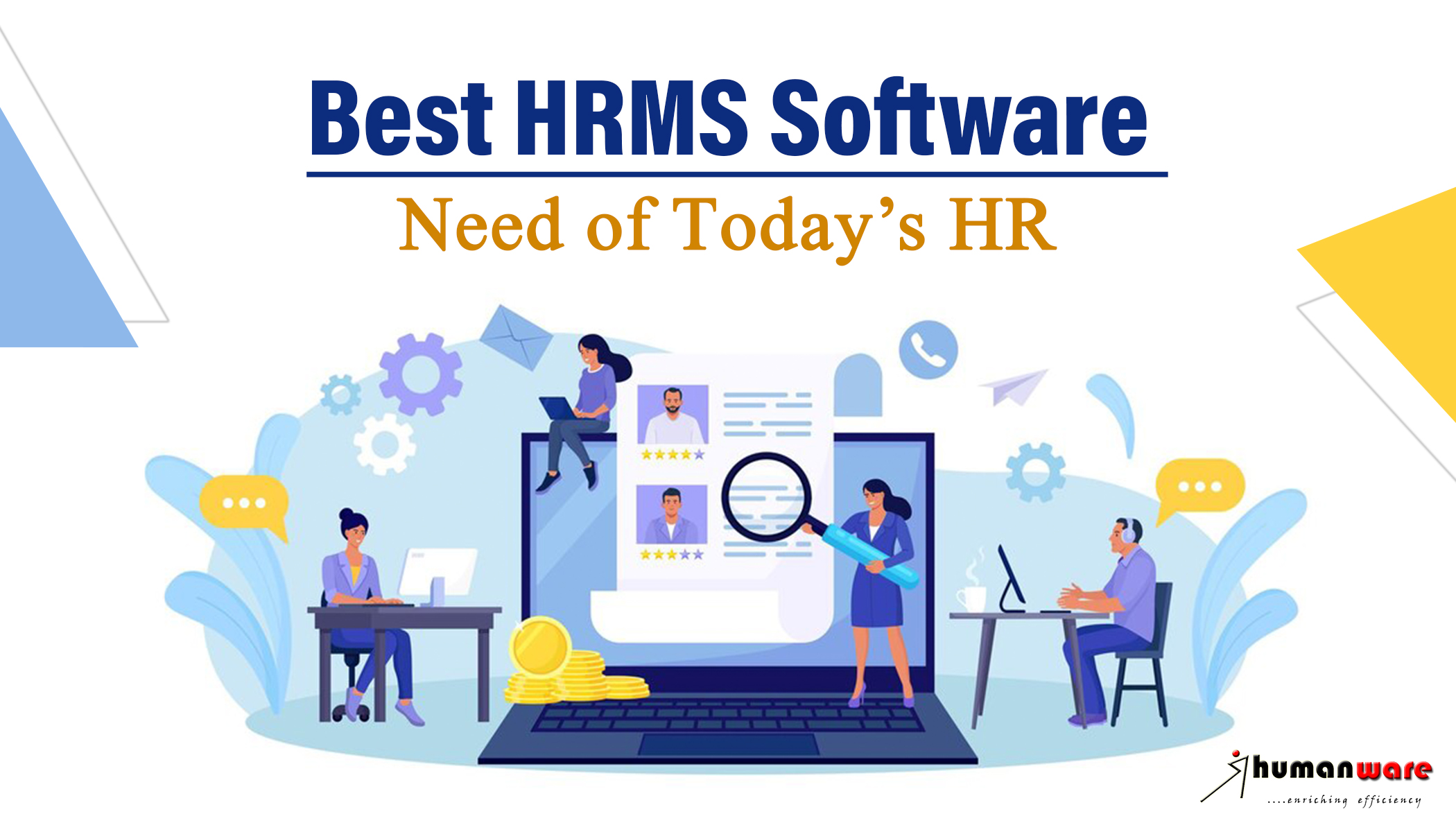 The HR function is one of the most crucial functions in any organization. In the corporate world HRMS is a rapidly growing need. In a survey conducted by G2, 80% of HR professionals said that using HRMS software improves employee experience positively. Managing employees manually is challenging and exhausting for HR personnel. Therefore, having digital automated HRMS software at your organization can ease many daily HR activities and solve many HR management issues. HRMS software can benefit in a number of ways to boost employee engagement and performance.
What is hrms software?
Human Resource Management System or commonly known as HRMS software or HR software is an application which meticulously combines all the different HR processes and systems to ensure easy management and smooth functioning. The HRMS software can help with automation of the HR process. At its simplest, HRMS software is a tool that makes managing peers easier. This is achieved by keeping track of the employee activities, processes involved in employee management.
Why is hrms software important?
Technology is the one thing that helps to accelerate manual tasks with reducing the possibility for human error. For HR, using the best HR software can help to automate repetitive tasks that take much of HR professional time and efficiency, whether it be managing employees attendance and leave or their payroll or managing employee training and performance all can be managed at a single unified platform by using the best HRMS software. HR software can benefit with the scope for manual paper-work being eliminated. HR software makes not only recruitment easier but also helps with Digital onboarding for new employees. HR can create important reports on all formats, and also provides statistics for managerial decisions, all very quickly. Having a full fledged HR software can benefit your organization in many ways.
1. Clustered and Secured Data
Maintaining and processing Data for different locations is difficult as well as it makes simple processes complicated. Losing track of employee data can lead to several issues with payroll and compliance. It will also contribute to lower employee satisfaction if data associated with their career performance or HR tasks is mismanaged bringing discomfort within employee and management. A HRMS system can be a life saver for such a senior. Not only all employee data can be centralized but also be secured. The critical data like employee information, onboarding, attendance, leave, payroll, performance, and more can be stored in a single and unified platform. This employee data can be accessed only by HR, HOD or Manager or those with the required access this ensures data security, employee privacy, and audit readiness. HRMS system assists to speed up the documentation process for new hires, which helps during the hiring and onboarding process.
As a HR we all know the hours of HR professionals are often occupied by doing the repetitive tasks and paperwork which is a time consuming job. HR professionals instead of using their clock for employee and organizational success, HR's are stuck in the pile of paper. HR software helps to manage people and go paperless with digitizing the employee request and response. Automation benefits with Monitor employee attendance, track hours and overtime, create timesheets and maintain time clocks. Each HRMS system offers modules such as the above to help automate repetitive and time-consuming tasks. Automation of these tasks will help improve record accuracy, prevent duplicate records and lead to fewer errors overall.
Skill set is what exhilarates individual growth and success as learning is a continuous process and employee training is crucial to keep up with current industry trends. Often, HR management have an LMS integrated with their HRMS system which allows to promote a culture of continuous learning at the workplace. This LMS drives employees to constantly learn and improve themselves, this practice drives employee engagement and increases the overall productivity of the organization. A good learning environment also attracts new talent to join the organization and boost brand recognition.
Communication is the key to the success of any organization. HRMS software provides access to an internal chat system to facilitate seamless communication among your employees with socialization peers, can have live feeds option and can discuss initiated anytime by anyone. This provides a platform for sharing ideas, keeping connected, and discussing strategies without any hassle. Whether it be any circular or any event employees will be notified instantly through their web and mobile applications. Employees can also share their reward and be recognized with this social platform.
An HRMS not only manages all employee data, but also benefits information such as enrollment and status changes. An HRMS allows employees to update their data without having to involve HR in simple tasks like checking vacation remaining and monthly attendance. This frees up time for HR professionals for more strategic roles, including building relationships and ensuring employee satisfaction to help retain the company's most important assets. Also, managers treat employees equally or impartially. Inconsistencies and variations in approach by the HR manager or consultant you deal with are no longer relevant. This simplifies HR or manager work and increase employee engagement with in the organization.
Humanware HRMS solutions can boost your business growth by attracting and retaining individuals, reducing procurement costs, freeing up time for more difficult tasks, and helping improve employee performance. HR professionals can even save money on buying a full HRMS because you won't have to worry about the cost and time spent training for several different programs. Investing in the right HRMS for your business needs is the most important factor, so make a checklist for what you need and research which vendors offer the kinds of features that are important to your HR and organization growth.