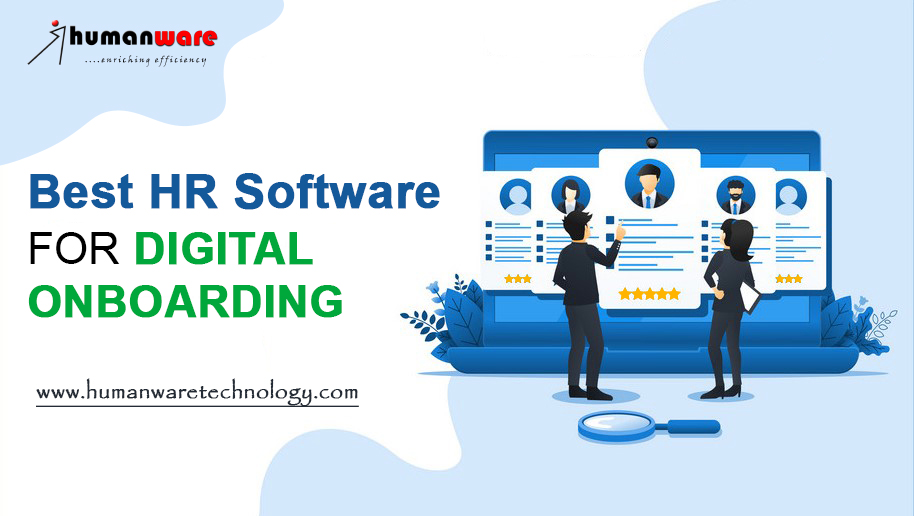 Best HR for Digital Onboarding
In recent years, the field of human resource management has grown excessively. People management has traditionally been one of the more human-centered facets of an organization, making it difficult for professionals to clearly measure and compare results, such as in the sales. HR Analytics has shifted the model, bringing a data-driven approach built on modern human capital processes to accelerate long-term market success by engaging HR KPIs and OKRs. Since there is so much data available within the organization, HR teams must first determine which data is most important and how to use it to get the best return on investment. Management can strengthen their game and offer practical guidance by assessing recruiting costs, recognizing workforce attrition rate, seeking training tools to improve employee performance, and answering even more queries.
Pre Onboarding
The digital employee onboarding systems must be sufficiently equipped to prepare them in advance.There is a lot of formalities that can be shared with the employee before they join the organization.Automated workflows with the system and timely emails can be sent to let the employee go through the policies and values dear of company. As digital integration is still unexplored, employees can be informed of the formalities they must complete from day one. Pre onboarding is the first time when employees first interact with the human resources team i.e the organization. This first experience of employee onboarding may be a deciding factor for employees long working with the organization. Top hrms software have modules for digital onboarding that helps organizations to perform requirements in one platform.
Communication Transparency for Employee
Effective onboarding solutions allow the hiring team and the hired employee to connect immediately after recruitment. This gives the employee a sense of engagement from day one itself. The HR and employee can instantly start sharing important information, and receive transparent communications as well. There are many questions related to salary, benefits, titles, job roles, or other areas because of the specific way in which the company lists or documents these issues. Right from the onboarding, transparent communication creates a positive image of the organizations' environment. The new technological solution can help the new employee find information and then reach out to HR for clarification. Digital onboarding creates an employee digital profile that is easy to read and can be shared within the organization for review.
Customizable and Configurable
The standard onboarding procedures may require changes from organization to organization Therefore, a good onboarding software should be configurable for the organization's specific rules. For example, the organization's strategies may require various departments to be engaged with the onboarding system. The work process might require taking advantage of an assortment of big business frameworks for everything from asset provisioning to finance setup. Thus, with a digital arrangement, these different departments can work together with HR to do the necessary customs. Such components and cycles are thought to be effectively arranged into the advanced arrangement and added to the onboarding pipeline. The adjustable setup additionally makes the onboarding system more reasonable for the worker as the processes are normalized at this point more lined up with the particular organization rules.
Paperless Onboarding Process
Studies show that a large number of businesses focus a lot of their onboarding time on paperwork. The traditional method of paperwork takes a lot of time and effort. It may also create confusion for the employee who is already trying to figure out the work structure that they are going into. By using the digital approach for onboarding to minimize the paperwork can allow HR to focus their time on helping employees to resolve the queries. With paperless onboarding, the whole process can be fast and easy, less human errors. Repetitive tasks are being automated. and an eco-friendly environment is created.
HR Intervention
While most of the onboarding processes are smartly handled by the solution, some of them require specific intervention from HR managers. The great example of this is Background verification. The workflows can be set up for digital onboarding and make the process paperless. As an additional measure, artificial intelligence and machine learning capabilities can also be built into the solution, which can help the solution learn and define its processes and minimize the burden on HR.
Benefits of Digital Onboarding
Paperless onboarding process, employees can receive digital joining letters. Similarly employees can also submit their documents in soft format like pdf or word file.
Employee data is centralized in HRMS software and all access to one unified platform.
With digital interviews, the interviewer can reach the candidates from remote locations.
Best hrms software provides a safe and secure onboarding process keeping candidate data secured.
With digital onboarding hr can improve hiring quality. By reducing human error.
Top hrms software provides a better user experience for new joining employees.
Conclusion
Best hr software provides multiple modules that cover all end-to-end employee life cycles. Digital onboarding solutions focus on the hiring of employees in the organization. Humanware HRMS software provides a better user experience for a new employee. organizations that seek to grow focused on hiring quality resources, that's where Humanware HRMS comes in handy with technologies like artificial intelligence and machine learning. In just a short time resumes can be filtered and the best candidates can be selected. Humanware HRMS Software is all that you need for managing your employee life cycle from onboarding to new joining. Humanware HRMS Software is the best HR software for your organization.