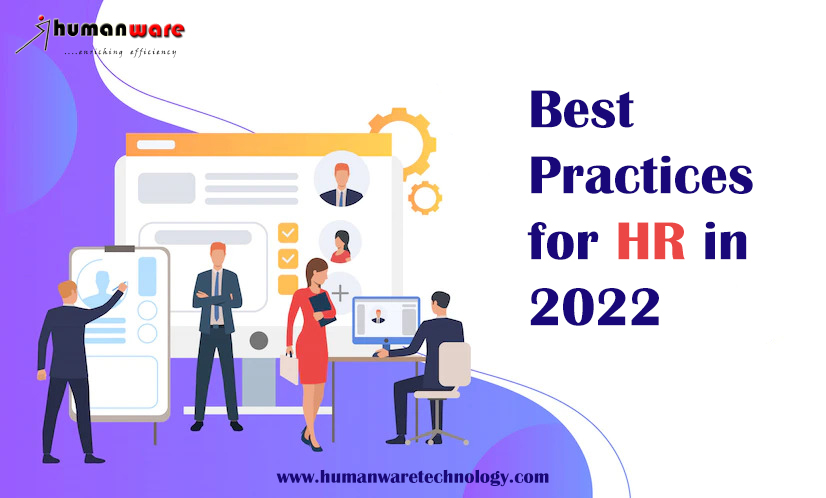 Best Practices for HR in 2022
The best HR software with collaboration of best HR practices is what you need to ensure maximum employee satisfaction Over the years many HR trends and tested around some basic principles that convert candidates into Resources. Today HR needs to determine the areas that the team should focus on in 2022 and in coming years.
According to research, there are two different approaches to managing people within an organization.
implementing the best fit approach i.e hr policies should align with business strategies to make profit. the organization should focus not only on company requirements but also on employee benefits.
The second approach claims that a certain bundle of activities that supports companies in reaching a competitive advantage regardless of the organizational setting.
Top 8 HR Best Practices
1. Developing organizational Culture
Organizational culture is the mirror of how the employees are treated in their workplace. Businesses with a great organizational culture are benefited with the best talent, and it helps in brand avocation. Studies also show that candidates are more likely attracted towards the organization with the best organization culture. This is one of the best ways to keep employees determined at their work with a healthy and happy atmosphere in the office. Having surveys and regular feedback aids a plus to develop a great organization culture. Bridging the gap between seniors and new joinees can be achieved by designing an organization culture that helps new candidates to develop and become habitual to the organizational culture.
2. Employee Training and development
Employee training and development are critical aspects of workforce management. Regardless of any definition, training and development are usually swapped. The training program comes with very definite and measurable goals like learning and how to perform. To ensure that knowledge management supports the strategy, a systematic approach must be taken. Store and record knowledge in databases to provide better access to information previously published by the company or employees on corporate knowledge portals. Whenever an employee returns from participating in a skills or competency development program, sharing essential knowledge with others can become important and mandatory. In any case, how to maintain a knowledge base and store data requires more detailed plans. Training and development lead to build skill and increased job satisfaction among employees. It also helps employees to be more effective and efficient as a result of higher skill levels.
3. Performance evaluation
Performance management or performance evaluation are not much different. A simple definition of performance evaluation is the process by which a manager or HOD evaluates an employee's work behavior by comparing it with preset standards, and uses the results to provide feedback to the employees to show improvements. Performance of an individual is what directly affects the growth of an organization, thus monitoring employee performance becomes important. If any employee needs any formal training or needs to acquire any special skill, performance management is the best tool that HR professionals are looking for. PMS provides an employee centered performance platform for growth-oriented organizations it also designed to help employees to grow and helps in business growth.
4. Feed back
360 Degree feedback, 9 box matrix, bell curve are few methods to understand employee performance. To understand what's going on in the organization, taking surveys and regular feedback from the employees are must. Regular feedback helps HR to know the employee's development status, his behavior and mood. This established feedback system helps in understanding organization culture. Additionally regular feedback keeps employees engaged in the organization and keeps them actively accountable. Regular feedback Boosts employee engagement and productivity. Provides clear goals, and enables employees to evaluate their own performance. Regular feedback allows employees to recognize their strengths and work on their weakest points.
5. Reward and recognition
Once employees feel values they are more likely to stay for a long period of time as well as perform Better than other employees. Rewards and recognition is the best way to achieve this result. Rewards do not necessarily need to be large or expensive; a simple digital certificate can also be a valuable reward. When an employee is acknowledged for his work this encourages him as well as other team members to perform. A healthy competition is built which assists in developing employee career as well as organization growth. To successfully implement a reward system HR needs to have Clear Vision for implementing then Define Clear Characteristics, and Define Clear Criteria for transparency.
6. Employee Engagement
Employee Socialization keeps your employees connected together. social media has spread rapidly and has undergone major changes. Social media has served as a new platform for employee engagement, brand building, and attracting new talent. Socializing the employee and enrolling them in the organization activities is much easier today. An engaged employee is twice as likely to perform than other employees.
7. Neutral Evaluation
Develop an appraisal system that clearly links individual performance to corporate goals and meanings. Each employee should have well-defined reporting relationships. Appraisal of employees themselves should be part of the appraisal process, as it empowers employees. The evaluation becomes neutral if it is based on the achievements of the employee, followed throughout the year. For better objectivity, in addition to the immediate boss, each employee should be assessed and judged by the next higher level as a reviewer. Cross-functional feedback, if obtained by the immediate superior of another manager for whom that employee's work is also imperative, will increase the fairness of the system.
8. Real Time Data and Analytics
Analytics is what interests HR most. With the best HRMS software in place HR can access the real time data which come in handy with Data visualization, Improved Hiring Process, Enhanced employee experience, and other management. Today HR Analytics has shifted to bringing a data-driven approach built on modern human capital processes to accelerate long-term success. Top HRMS software focuses on offering insight into the most effective ways to handle employees and achieve organizational goals. With business intelligence in place the large data is mined into precious gems.
Conclusion
If a particular organization works potentially on the HR best practices and effectively follows them, HR could see higher employee preservation and happier employees who contribute to their organization. HR best practices corporation can be the highlight of your business by implementing flexibility and training within the department. And for any other issues regarding business dealing or partnership, you might need the assistance of a business law attorney to safeguard property.