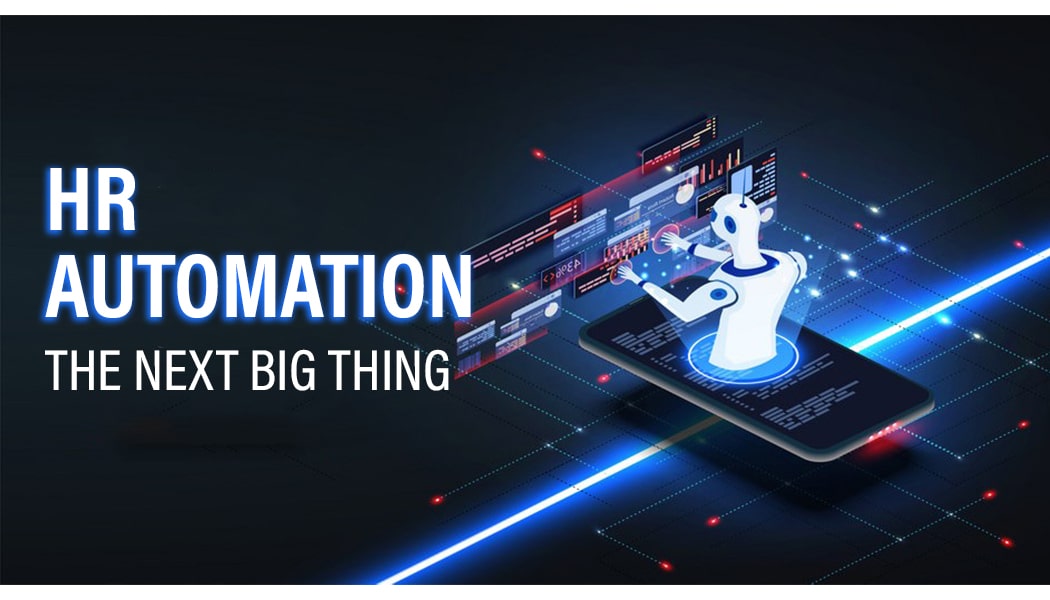 HR Automation The Next Big Thing
Machines and Humans are not always compatible and struggle to work together, thus automation might seem contradictory ideas. However reality is different from fraction HR automation can significantly improve efficiency by making workflow smoother, and reducing human errors. In today's highly competitive business environment, organizations need to gain every efficiency to compete. HR automation is a great way for businesses to run faster, smarter, and better serve your valued employees. It might seem strange to use machines to help your people succeed, but that's exactly the goal of HR automation.
What is automation ?
By definition the process of technological transformation to monitor and control the production and deliver quality products and services is called automation. Without automation future innovations would be next to impossible. From computers and cell phones and every technology around us is only possible because of automation.
What is HR automation?
Uses software to automate and digitize repetitive tasks that are time consuming including employee onboarding, payroll, performance management etc. This allows HR employees to focus on more strategic tasks that have the most value for the business. It also improves efficiency and safety while reducing the risk of human error. HR automation is due to the time and amount of physical documents involved in day-to-day HR processes.
If the HR professionals are spending more time on managing employees activities rather than using their valuable skills in other areas of the business development, then it's time to find a new way of working.However, moving from a manual approach to HR automation requires a certain level of skill and training in the use of technology to be effective, but the results are impressive.
Benefits of HR Automation
1. Improved efficiency
HR relies heavily on document-based processes. When it's done manually, it can be time consuming and extremely inefficient. Paperwork can get stuck in a queue or on a person's desk, and mistakes are common. In addition, requiring people to come to the office or fax them using signed forms is redundant. HR Automation digitizes all of the HR fundamental needs and more, increasing productivity and efficiency across the enterprise. The organization can then devote more energy to ensuring that all of its HR are advocates for people. They can focus on building culture, on people's practices, on being a champion in the workplace and an expert in communication. All skills are essential to the performance of any HR professional.
2. Actionable insights
Businesses have data which takes much time to process and bring useful insights. Humanware HRMS software is built with innovation like business intelligence and HR analytics that provide you with Actionable insights that help to collect and analyze data of the employees. This allows the HR to spot patterns and create reports on findings. HR executives can then use these insights to improve processes, correct any failures, and do more of what's across the business.
3. Reduced Errors
Completing tasks manually takes time and are more likely to have scope of mistakes. As the tasks are performed by humans it's general to have some errors, retiring those errors also takes time as the same review is done manually. HR tasks like payroll, timesheets management, recording employees leaves and attendance are much complex tasks and may take days to complete with automation completing and tracking job is done with ease. Additionally a system can do tasks quickly and lowers the risk of error.
4.Standardized processes
Managing employees can be a quite messy job, as every employee is different. For an effective process, the flow needs to be properly designed in the early phase. Planning in the initial phase with HR automation can reduce the complexity and bring the best out of your workforce. HR automation is a consistent process for workforce planning that follows systematic units and a standardized outcome. Depending upon the need of business HR automation can be configured to match the individual business needs. HR automation ensures that no critical step is missed. HR automation is a smart shortcut to standardization of process workflow.
5. Integration of data
Maintaining a unified system means integrating HR, benefits, and payroll functions, which helps businesses eliminate duplication and errors. Having an internal accounting interface with the HR system benefits module can automate the payroll process and ensure data accuracy. With an automated benefits system, employees can learn, view, and apply benefit requests specific to their eligibility. All transactions can be passed seamlessly to payroll, ensuring accurate payroll deductions. The service and support a business receives when setting up an automated benefits system is also of vital importance. Without a smooth implementation and good ongoing support, automation success and cost savings can become much more difficult to achieve. As the talent market becomes increasingly competitive, companies are also placing more emphasis on employee benefits as a tool to attract and retain top talent. In today's world, rewarding your employees is more than just improving your cash income; employees want to be rewarded in a way that benefits their overall well-being and lifestyle. In doing so, it creates a win-win situation where companies can reap the rewards of motivated, loyal and productive employees.
How Humanware HRMS helps to automate your HR activities?
HR process automation enables business agility by allowing their employees to focus on customers and new business opportunities rather than wasting time and detain people most businesses look to the cloud to help them become more efficient but these days just being in the cloud on earth digitizing routine workflows such as employee onboarding vacation requests and other everyday tasks HR process automation has many benefits for businesses including improved visibility and control with process automation software business has gained the ability to electronically track document flows search for information and audit important records business agility digitized processes let you quickly take advantage of new opportunities predictive analytics learn what you should be doing before you need mobile enablement forms and workflows can be easily viewed on mobile devices these features empower businesses to improve their customer focus and remove process redundancies allowing you to free up valuable resources and letting employees focus on improving service to customers want to learn more about HR process automation and how it can help your business.