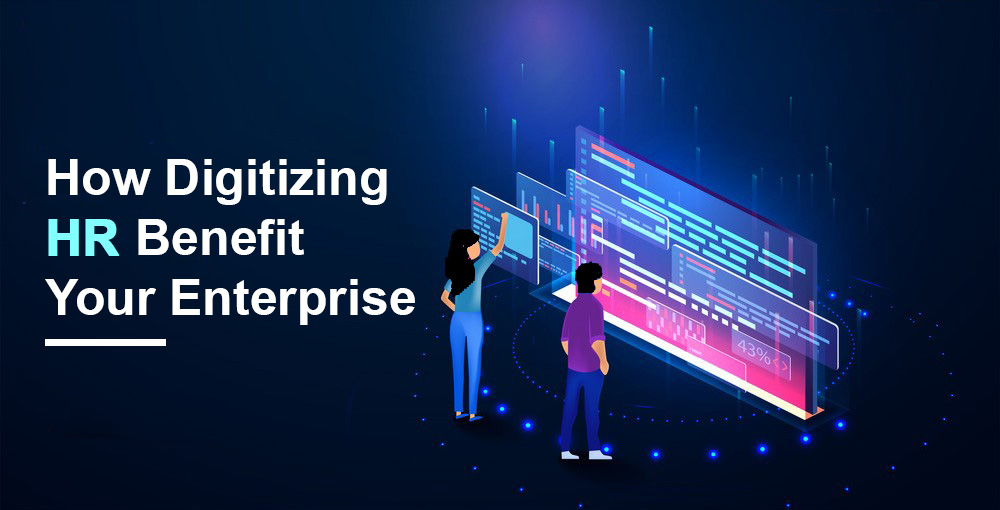 How Digitizing HR Benefit Your
An important key that makes an organization work efficiently is the way the organization manages the workforce. Today the need of the hour is a HRMS system on which the enterprise can trust for managing their employees activities and also their performance. An Efficient HRMS allows the employees and management to move towards a shared goal. HRMS software aids HR executives in various tasks such as centralized data storage, capital management, administrative support, analysis and reports. With the upgrades like Business intelligences, Chatbot, RPA based payroll Professional HR software providers automation and an ease in day to day HR tasks. in order to keep up with the competition, but also the growth of an organization is assured if you know how to take advantage of the HR digitization for your organization.
Booms with ROI and maximizes potential
Digitizing HR can reduce the manpower required to process the manual task, paper work that's time as well as resource consuming. Instead of hard copy digital files are available at any time of instant with more detailed information. Today many businesses are looking forward to digitizing their organization. Digitization can notably improve an organization's response time when dealing with functions such as customer inquiries, logistics issues, and sales. This increase in responsiveness is directly related to operational efficiency as there are more satisfied customers.
Modernized HR Analytics
HR analysis aids HR professionals to make quick and better choices based on historical data; it enables better workforce planning especially for roles deemed critical. Predicting attrition clearly improves workforce planning to achieve organizational goals. Hr analytics helps a business to examine an employee's performance by track, sharing and analyzing their past activities tracking and recording the behavior of the employee. In addition, employee history can help for incrementation of employees based on their performance. HR analytics with business intelligence helps in future planning for the organizational goals and business growth by analysing the historical data and predicting future growth.
Built the Culture with Socialization
Today is the day of social media where everyone is connected with each other whether it be family or friends. Sometimes it's difficult to find and get connected with office culages. Organizations tends to promote a sense of unity among its employees with internal communication, to bridge this gap many organization are using a in-house social platform where every single employee can stay connected, from manager to new joinees everyone can share their thoughts and experiences about work and organization HR should embrace the real power of social media to enhance employee engagement and get a constant feedback that aids to built the culture in the organization that benefits for a growing healthy environment. Socialization benefits with improved employee recognition as employees can share their accidents and recognition on the social platform, this can encourage the team to perform and bring the best out of them. employees can also cope with there difficult at work as bond between them gets more stronger.
Chatbot
On an average HR receives about 88 mails per day and the number can even go higher. It becomes more and more complicated as the company's count increases clearing the issues from employees seems like next to impossible. Thanks to the technological advancement in Artificial intelligence and machine learning new innovation are created like chatbots Chatbot acts like a digital HR that helps employees to clear their issues. It serves as a 24x7 HR and is available at any location to prevent any disruption. Chatbot also benefits with a faster communication channel. With chatbot in place employees have to no longer wait for the HR to get back at them the response is just in a minute. As a message channel to interact, employees no longer have to type a brief email explaining the issue to the HR department.
Employee management
Employee management is not as simple as it appears, the HR task is not only to manage the attendance but also look at how every employee gets paid correctly and keep them engaged in the organization. Recent studies show that a happy employee performs better than the other employees. With a HRMS in place HR can now improve workforce management efficiencies, a centralized data helps to keep the track of employees where it is easy to manage employees data and plan the next step.
Stay connected with former employees
Alumni program allows the enterprises to keep in touch with former employees and maintain a healthy relationship. This communication made up with former employees can bring significant benefits to business with recruiting, business development, and brand ambassadors. The core alumni program must have a strong and robust network. A strong alumni is dependent on the number of engaged employees who are part of them.people who feel valued when they leave are more likely to rejoin the organization with boomeranging recruiting HR can rehire the talent.
Conclusion
Without data it is impossible for HR to manage people and organize their activities at the same time, with the data centric approach many organizations are moving towards HRMS solutions that provide a complete employee life cycle from hire to retirement. The best HRMS software.