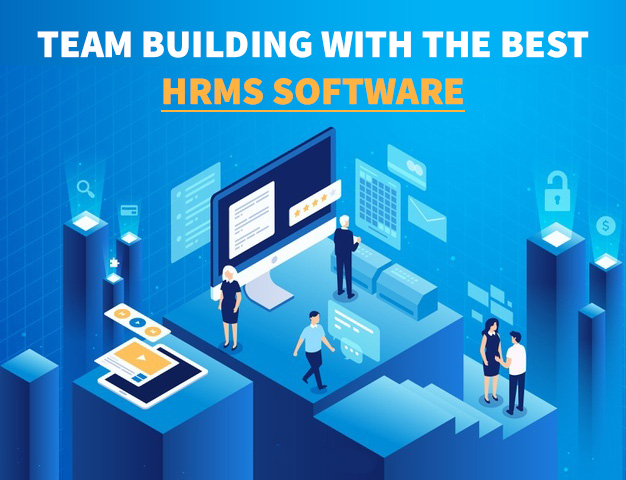 Team Building With The Best HRMS Software
Today, the workplace is going global. Organizations with a vision are eager to hire talented employees of various genders, ages, religions, races, ethnicities, cultural backgrounds, languages, education, skills, etc. Turning a group of strangers into a team is an important task for HR professionals. It is not easy to bring together people from different backgrounds and ask them to form a successful team. But an HR can bring all employees together on one platform using an HRMS system.
What is Corporate Team Building?
Team building is the process of increasing the productivity and effectiveness of a team by creating activities that require members to accomplish a common objective. This process depends on a number of aspects to guarantee its success. Organizations with multiple teams need to establish alignment amongst the teams for good results.
Turn a group of strangers into a progressive team
Developing employees' emotional connection to work is essential to organizational performance. This employee involvement not only helps in achieving good results, but also creates camaraderie among team members. Let's discuss the steps that can turn a group of strangers into a team so essential to a team's performance.
1. Employee engagement
Engaging the employee in a meaningful way on a team is one of the best ways to turn an outsider into a team player. Engagement develops a sense of connection and helps make a positive difference. A high level of engagement helps members develop compassion for other members and all other employees.
2. Know more about strangers
Finding out more information about new members through personal conversations and discussions helps build a relationship. Understanding the interests and passions of members can build good relationships and develop strong bonds. The leader needs to talk to his people to get to know each team member as a person. He should ask questions about their passion, what drives them, their life goals, why they do what they do. The leader should try to talk to their entire real team in this way to gain their trust and make them feel important. In doing so, leaders must also show their side, their passion, their interests and their goals.
3. Appreciation and recognition
The most important factor for professional growth is appreciation. We do everything to be appreciated and pleasant. Valuing the effort and recognizing a contribution invariably helps outsiders become an asset to the team. Develops the dedication and enthusiasm so important to team performance, developing true team spirit and positive results. The leader must understand the experience of his team members and appreciate them for their contribution to the team. Appreciation helps you gain respect and bring members closer to each other.
4. Highlight common goals and interests
Frequent interactions are essential to bringing team members together. Highlighting how the members' task is connected would initiate communication between members. The more communication there is, the better the understanding between members. Focusing on common interests will also result in building a strong and effective team with good results.
5. Conduct fun activities in the workplace
Having fun together is the easiest way for people to connect. When they get together, have fun and have fun, they develop a better understanding and easily become friends. It's a simple and effective way to cultivate good relationships with team members.
In order for strangers to feel at home and accommodate them in the new environment, the leader must help them with their problems, if any. It brings members closer to you and encourages them to contribute to the team effort. Help members create credits for the leader. This makes it easier for you to build strong coordination among team members.
6. Help your team members
In order for strangers to feel at home and accommodate them in the new environment, the leader must help them with their problems, if any. It brings members closer to you and encourages them to contribute to the team effort. Help members create credits for the leader. This makes it easier for you to build strong coordination among team members.
7. Involve members when making decisions
Getting information and feedback from team members when making decisions and developing a strategy brings everyone together. The more communication there is between members, the better the bond. Teamwork is the most critical success factor for any organization. No business can grow and prosper if well-coordinated teams don't work together. Good teamwork is mandatory. For teams to be excellent, each member must feel an important asset and contribute without hesitation to the common cause. HR leaders and managers should try to build great relationships with employees.
Reasons for Corporate team building Failure
Lack of Vision : A team without a clear and well-communicated vision will never succeed. Team members cannot align for success in the absence of a goal for success. Members will go in different directions when they don't know what they are working for.
Unclear Roles : Nothing is worse than not knowing exactly what to do. People find it difficult to decide when their roles are unclear. This is one of the main reasons for a team's failure.
Poor Decision-Making : Making quick decisions is just as important as making good decisions. Sometimes teams miss the opportunity to find a good approach to decision making and fail in their goal. Either they overthink their decisions, or they hastily make a bad decision. This way they waste time and bad decisions lead to bad results.
Lack of Resources : Lack of sufficient and appropriate resources is sometimes a good reason for team failure. Either the team fails to organize the resources, or the organization assigns rights to the team without sufficient ammunition.
Poor Dynamics : Mutual respect is essential to team cohesion and to achieving the goal. Effective and productive team communication is necessary. To get the right team dynamics, you have to be an expert in communicating with other team members. The feeling of loyalty to the team and also to each other is one of the fundamental principles of teamwork and is the recipe for success.
Benefits of Corporate team building
When teamwork is at the heart of the work culture, the organization will certainly reap the benefits. Let's take a look at some of the amazing benefits of teamwork in the workplace:
1. Brings Innovation
New ideas and innovation are the fuel for businesses to succeed in a competitive world. Organizations thrive when they have a diverse team of people capable of bringing new ideas. The teams must encourage the development of new and fresh ideas for organizational growth. Sharing ideas, analyzes, suggestions and concerns in the workplace give rise to new ideas and different perspectives. This invariably results in innovative methods and ideas.
2. Teamwork Improves Productivity
Teamwork boosts morale when your contribution is valued and produces results. Working together develops a strong sense of belonging and a deep commitment to each other and to the common goal. Project teams are more productive and motivated in relation to business goals. teams communicate better and avoid delays and minimize friction. High-quality input is the result.
3. Teamwork helps solve problems
Team collaboration helps solve difficult problems. Brainstorming brings the team together to exchange ideas and come up with creative ways of making work more productive and build a healthy work environment. Teams find the solutions that work best while working together as a unit along with crucial management skills. Teamwork strives to meet deadlines. The team maintained the quality of work, and members supported each other. If anyone lags in work, other team members are there to back him up. The sense of camaraderie develops when team members work toward achieving a common goal.
4. Engages Employees
Teamwork empowers employees to socialize, discuss and collaborate beyond work. Working together creates bonds that boost overall morale. Working in a team generates enthusiasm. team members are ready to help each other and to work beyond normal obligations. This guarantees overall success.
5. Builds Trust
Teamwork creates a strong bond. Members like to work together. It develops confidence that provides a sense of security that allows members to open up and encourage each other. Teams have varying skills, knowledge levels and backgrounds. This diversity creates a sum greater than the total of individual efforts. Teamwork improves cooperation among members as they learn from each other's mistakes and successes.
Conclusion
The growth of any organization depends upon the collective efforts of it's employees. When we look around we will observe that everything that we see is a result of teamwork. Managing the team with modern solutions like HRMS, HRIS, HCM is the best practice to make employees more engaged and productive. The best HRMS software brings the best of your employees.