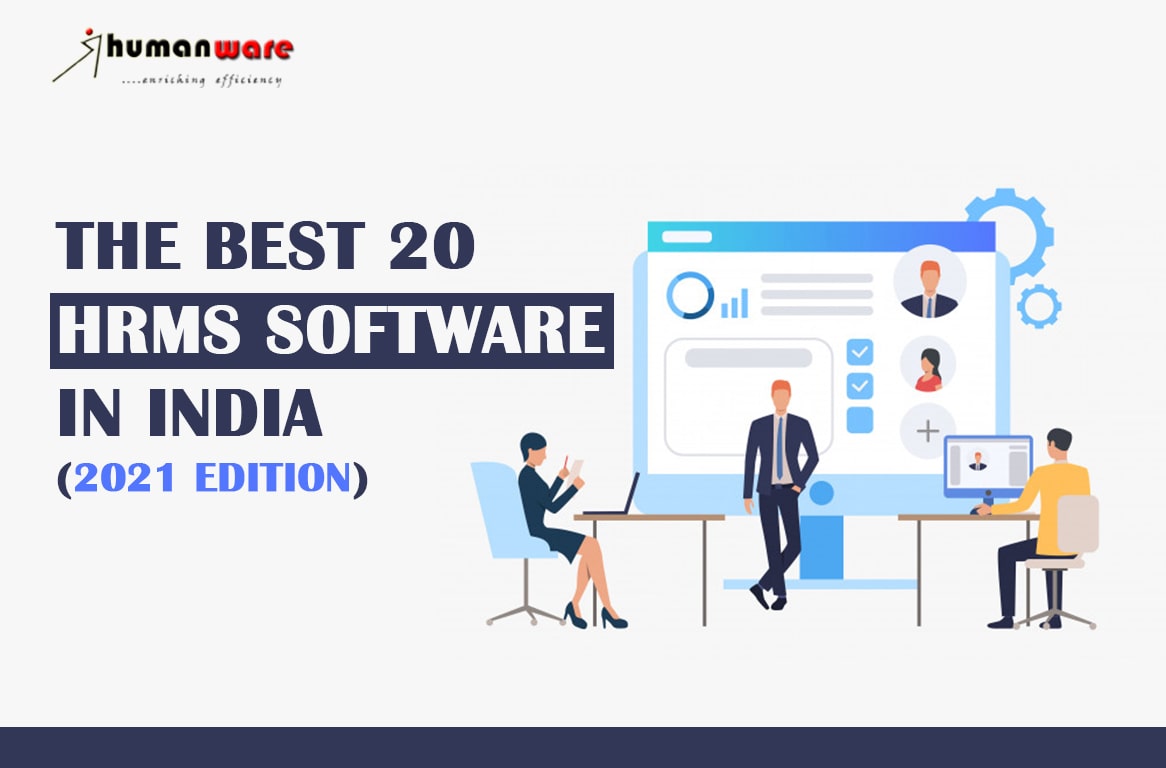 The best 20 HR Software in India (2021 Edition)
Human resource management is an important task in any organization. Managing the employees. Is a critical part of an HR professional, to automate their work they require a smart solution. today there are many software present in the market but few of them are compatible. Here is a list of the top 20 HRMS Software in India. Which we recommend for your organization.
Based on our interactions with different HR professionals, we have created our list of HR software. Some of these trends are the inevitable result of drastic changes that organizations had to go through during the pandemic. Others are more long-term developments in the HR industries. Each will, however, create a lasting impact on how we manage people and how we work as a partner of the business. This list covers the core HR functions which are required for any organization free of its size and employee count.
1. Humanware HRMS software
Humanware HRMS Software is a single and integrated platform that helps your organization to manage all of your HR needs in a single place with modern HR Tools. We provide 360 Degree HR Solutions using high-end technology of Artificial Intelligence(AI), RPA based payroll and HR Analytics. Strategically developed next-generation HR Solution which enables enterprises to define, monitor, and achieve their organizational Goal Backed by 20 years of industry experience and more then 100+ customers. For demo click here
Features
Human capital management
Time, leave and attendance
HR analytics
Recruitment management
Travel and expense
Hiring and onboarding
Talent and performance
Training and learning
E-separation/resignation
Payroll
Organization chart
Socialization
Mobile application
2. Darwin box
Darwin Box is an HR tool that is capable of performing HR-related tasks. It is based on cloud technology.it is one of the known HRMS providers in India. Darwin Box's HCM automates HR processes and helps in reaching their goals in real-time. Darwin Box also has a voice bot that allows for voice support for employees.
Features
Core HR
HR workflow
Time and attendance management
Payroll
HR helpdesk
Recruitment suite
Onboarding
Employee engagement
Performance management
Rewards and recognition
Travel and expense management
3. ZingHR
ZingHR has been the HR Software that is helping organizations with Automation, ZingHR is a solution that could directly impact Employee Experience. ZingHR aims for an Employee data centralization and mobile approach. ZingHR is currently focusing on giving its users a better experience with artificial inelegance (AI) enabled Technology and Systems supported with 26+ languages.
Features
Talent acquisition features
Onboarding
Virtual HR assistant (Captain Zingo)
Geo tracking and geo-fencing
Time, leave, and attendance tracking
Travel and expense tracking
Employee self-service dashboard
Payroll
Learning management
4. Facto HR
FactoHR's core HR modules offer perfect integration of payroll with attendance, leave, and more. The software promises a solution to endless payroll calculations and directly deposits employee salaries into their account. for attendance on mobile, it is integrated with geo-fencing to track employee location , it has been implemented by many businesses.
Features
Payroll
Onboarding
Core HR
Attendance, leave, travel and expenses
Performance and goal-setting
Mobile application
Remote work features
5. HR Mantra
HR Mantra is one of the known HR software in India,It seeks to remove the complexities of HR activities through its intuitive user interface and artificial inelegance (AI) technology. It is an HRIS software which provides attractive features that engage your employees and HR department.
Features
HRIS
Recruitment management
Exit and full and final settlement
Shift management
Attendance and leave management
Payroll compliance
Training
6. Qandle
Qandle is a HR software that focuses on mobile first approach, it has a powerful Chatbot which is called as "Qanbot" . Qanbot can also be voice controlled and works as a personal assistant .Qanbot makes processes such as requests, policies and protocol much easier.
Features
Attendance and leave management
Payroll
Employee records
Employee self-service
Helpdesk
Recruitment
Onboarding and exit
7. Bamboo HR
BambooHR makes the implementation process of HR software easy and allows ease of access to all data and analytics.BambooHR aims to help small and medium business owners focus on their most valuable asset.
Features
Employee records
Reporting and analytics
Applicant tracking system
Compensation
Performance management
8. Elite HR
Elite HR solution applies to all HR operations and processes, from the orientation of new employees to tracking employee activity and all employee-related contracts and policies. Elite HR promises simplicity in onboarding, storing employee data, and calculating payroll.
Features
Manpower planning
Resume management
Database management
HRIS
Employee Benefits management
Customized salary structures
9. Peopleworks
Peopleworks is an HCM developer that provides solutions to a modern workforce. PeopleWorks aims to construct an HR system that is useful to all employees in the organization.It simplified various mundane HR activities be it recruitment and payroll.
Features
Core HR
Recruitment solution
Payroll management
Workforce management
Talent management
Learning and development
10. Pulse HRM
Pulse HRM is an all-in-one platform that helps clients through a comprehensive self-help page.PulseHRM is designed to customize solutions, provide support, enriched with frequent upgrades with multiple training modules.
Features
Payroll
Project management
Employee monitoring software
Performance management
Visitor management
Onboarding and employee engagement
Leave management
11. Timelabs
Timelabs provides you a short solution for web-based HR Software. Timelabs offers you the comprehensive module for time attendance, leave management, and payroll system that will strengthen your HR department and free up the resources from repetitive tasks, and allows you to focus more on team management and process improvements.
Features
Payroll
Attendance and leave
Document management
Applicant tracking software
Onboarding and performance
Biometric devices
Mobile Application
12. HRM Thread
HRM Trends is an HR and talent management software that helps businesses reach their highest potential with their employees. Its industry experience has helped in formulating the practices and incorporating the latest technology into one complete HR software.it is a cloud based application.
Features
Payroll processing
Bonus and gratuity
Statutory compliance
The full and final settlement
Workflow solutions
Employee self-service
13. Beehive HRMS
Beehive HRMS is a cloud based HR software which provides 360 Core HR functions. Beehive HRMS aims to offer a better user experience, by making there HRMS easy to use by employees and HR department.
Features
HRIS
Leave and Attendance
Payroll
Travel and expenses
Onboarding and training
Performance and tasks
14. FlexiEle
FlexiEle is a simple but comprehensive software provider that offers HR systems that are robust and easy to integrate. Their system includes mobile apps, built-in templates, and state-of-the-art technology that drives business goals.FlexiEle provides a centralized database for storing employee information.
Features
Leave and attendance
Recruitment process
Talent management
Talent management
Payroll
Helpdesk
Exit and offboarding
15. PeopleApex
PeopleApex is a cloud-based HR Software created to empower the employee with employee self-service (ESS). PeopleApex is an integrated end-to-end HCM solution. PeopleApex provides basic HR, payroll, and expace modules. PeopleApex is an Employee Experience Platform that helps to get the best from your employees, by ensuring your employees feel engaged, empowered, and energized for performance.
Features
Leave and attendance
Recruitment process
Talent management
Learning and development
Payroll
Helpdesk
Exit and offboarding
16. HR Fast
HR Fast is a simple HR software that helps in automating HR processes. The software makes many manual processes into automated processes and reduces the work of the HR department. It provides 19 different features for your organization.
Features
Recruitment and training
Payroll and expense
Statutory compliance
HR letters
Attendance and leave
Timesheet
17. Zimyo
Zimyo HRMS is a comprehensive HR software that offers HR systems that are robust and easy to integrate. Zimyo HRMS platforms help in organizing workflows in a single click and help HR managers customize the HRMS according to their requirements. Zimyo has also made the state of the art "senti-meter" that allows employers to analyze the mood and emotions of their employees.
Features
Employee recognition platform
Senti-meter
Recruitment and onboarding process
Core HR processes
Payroll and expenses
Employee evaluation
18. HRAPP
HRAPP is integrated with the features to handle the workforce efficiently, so that you will feel like an extra member has been added to your team to take your burdens off. Leave all the back-office work to our Artificial intelligence (AI) equipped platform and engage with employees.
Features
Payroll
Benefits and deductions
Full and final settlements
Recruitment
Employee self-service
Help Desk
19. Office Net
OfficeNet well-rounded HRMS and Payroll software aim to automate HR workflows at affordable prices. Its free HRMS aims to equip businesses of any size with all the tools necessary to make the best use of their business expenditure.OfficeNet software solution is implemented by small, medium, and large businesses.
Features
Leave and attendance
Recruitment and onboarding
Travel and expense
Mobile app
HRMS and HR analytics
Training and development
Employee self-service
Payroll solution
20. EazeWork
EazeWork is a complete HR software that offers enterprises multiple core features, from payroll to HR support. EazeWork is an employee experience platform that ensures engagement, empowerment, and growth in performance.
Features
Payroll
Reports and analytics
Employee self-service
HRIS
Recruiting and onboarding
Attendance and timesheets
The product in the above list may vary in budget and may have different payment methods like Pay per user, One-time payment, and Subscription based on time period. however, this list is developed based upon user experience and functional requirements of small and large size of organizations